Part Name:Dip meter,stainless steel Ruler tape cable
This product are widely used in water conservancy, dam power station, agricultural irrigation, under ground well water, Well, boreholes, standpipes and tanks hydrological monitoring.
The length can be 30M/50M/100M/150M/200M/300M.
Tape : Each order minimum value 100USD!!!
PS:Please consult the sales manager before placing the order,and tell them what standard do you want!!
SKU

Length

MOQ

RC980730-30

RC980730-50

RC980730-100

RC980730-150

RC980730-300
RC980750-30

RC980750-50

RC980750-100

RC980750-150

RC980750-300
RC9808-30

RC9808-50

RC9808-100

RC9808-150

RC9808-300

RC9808-400

RC9808-500
RC9809-30

RC9809-50

RC9809-100

RC9809-150

RC9809-300
Water proof measuring tape specification:
• Tinned copper wire conductor to keep the stable electrical properties
• High carbon stainless yellow colored tape with black scales was easy to read
•Scales in meters or in feet is acceptable, by mm or by 0.01ft
•Special appearance design make the cable hanging straight in the well
•Ruler tape cable resists stretching under loads of 45 kg (100 lbs)
•Standard tapes are printed beneath the jacketing and the print never wears off
•Tape jacket was coating with PE,PU which make it oil and wear resistant
•Ruler tape cable length :20M,30M,50M,100M,200M,300M,500M,600M for ruler tape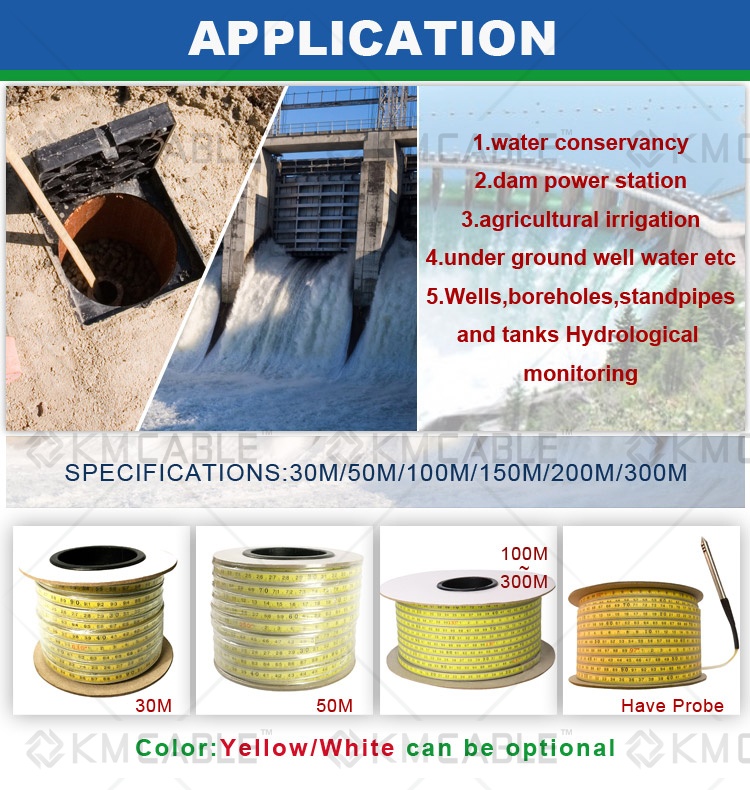 KMCABLE Water proof measuring tape application:
Widely used in water level meter,construction industry,test equipment,geotechnical
investigation ,environmental monitor station and so on.When it connects with a sensor
or electrical equipment,it can produce the best quality results.
 SHANGHAI KMCABLE GROUP CO.,LTD
If you want more related products,  Such as steel tape, deep well Submersible,  dip meter,
Please contact Us.
Address: NO.699 Xiannan RD,Fengxian District,SHANGHAI 201400,CHINA
TEL: +86-21-60528967
Details
| | |
| --- | --- |
| Weight | N/A |
| Color | white, Yellow |
| Response Time | <10 Milliseconds |
| Length | 100M, 200M, 300M, 30M, 50M |
| Use For | KMCABLE water level meter |
| Material | Stainless Steel |