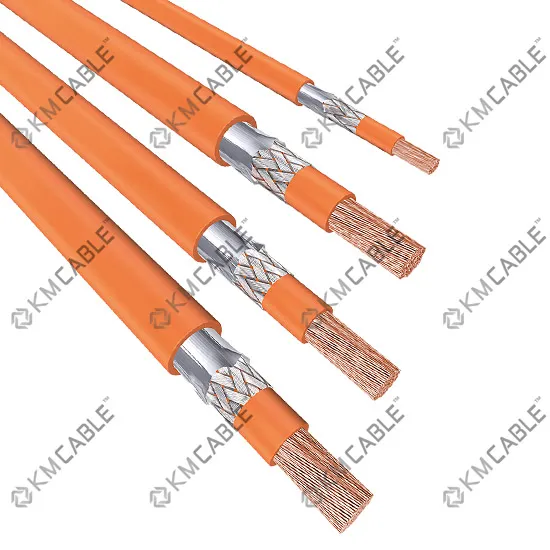 As electric vehicles (EVs) continue to gain popularity, understanding the intricacies of their high voltage components becomes crucial. One such component is the EV high voltage cable, responsible for transmitting power between the battery pack and various electric systems. In this blog post, we will delve into the world of EV high voltage cables, covering their colors, voltage levels, industry standards, and the concept of high voltage screened cables.
High Voltage in EVs:
In the context of electric vehicles, high voltage refers to the elevated electrical potential required to power various components efficiently. EV high voltage systems typically operate at voltages ranging from a few hundred volts to over 1,000 volts. This high voltage is necessary to reduce energy losses during power transmission, optimize system performance, and achieve greater range and efficiency in electric vehicles.
Color Identification of EV High Voltage Cables:
The color of EV high voltage cables is typically chosen for safety and easy identification purposes. While specific color schemes may vary among manufacturers, here are the commonly used color assignments:
Orange: Orange is the most prevalent color for EV high voltage cables. It serves as a visual indicator to denote the presence of high voltage. The bright orange color stands out and alerts technicians and individuals to exercise caution and take necessary safety measures when working with these cables.
Blue: Some manufacturers use blue cables for high voltage applications as an alternative to orange. The purpose of blue cables is the same as orange, indicating the presence of high voltage. Blue color coding provides an additional option for cable identification, particularly in situations where multiple systems or voltage levels coexist.
Other Colors: In certain cases, additional colors may be used for specific purposes, such as indicating different voltage levels or functions. Yellow, green, and red are occasionally employed in this context. The specific color assignments may vary among manufacturers or be subject to specific industry standards or regulations.
It's important to note that while color coding helps with initial identification, it should not be solely relied upon for determining the voltage level or safety precautions. Proper training and adherence to safety protocols are essential when dealing with high voltage cables.
In terms of specifications, EV high voltage cables are designed to meet stringent industry standards to ensure safety and reliable performance. These specifications include:
Insulation: EV high voltage cables feature insulation materials capable of withstanding high voltages and protecting against electrical breakdown. The insulation should have excellent electrical properties, heat resistance, and resistance to environmental factors like moisture, chemicals, and temperature variations.
Electrical Performance: The cables are designed to efficiently transmit high voltage power while minimizing energy losses. They should have low resistance and high insulation resistance to prevent power dissipation and leakage.
Mechanical Robustness: EV high voltage cables are subjected to various mechanical stresses and should be designed to withstand bending, twisting, vibration, and other physical demands associated with automotive applications. They should also exhibit resistance to abrasion, impact, and mechanical deformation.
Environmental Resistance: These cables should be resistant to environmental factors such as temperature extremes, moisture, oil, and chemicals typically encountered in automotive environments. They should maintain their electrical and mechanical properties over an extended period under harsh conditions.
Compliance with industry standards, such as ISO 6469 and IEC 62955, ensures that EV high voltage cables meet these specifications, undergo proper testing procedures, and adhere to safety requirements.
Automotive High Voltage Cable Standards:
To ensure safety, interoperability, and quality in EV high voltage systems, several industry standards have been established. The most prominent standards include:
ISO 6469: Specifies safety requirements and test methods for EV high voltage systems, covering aspects like insulation, protection against electric shock, and electrical isolation.
IEC 62955: Provides guidelines for the design and testing of EV high voltage cables, addressing topics such as electrical performance, mechanical robustness, and environmental resistance.
SAE J1772: Establishes a standard for charging connectors and communication protocols used in EV charging infrastructure, including high voltage cable requirements.
High Voltage Screened EV Cables:
High voltage screened EV cables refer to cables equipped with shielding to protect against electromagnetic interference (EMI). EMI can arise from various sources, including other electrical components within the vehicle or external sources. The shielding consists of a conductive layer surrounding the high voltage cable, which helps contain and dissipate EMI, preventing its interference with other electronic systems and ensuring reliable operation.
Find our popular EV cables:
EV high voltage cables play a crucial role in the efficient and safe operation of electric vehicles. The color-coding of these cables provides clear visual identification, while adherence to industry standards ensures their quality and reliability. Additionally, the use of high voltage screened cables helps minimize electromagnetic interference, contributing to the overall performance and longevity of EVs. As the EV market continues to evolve, understanding the intricacies of high voltage cables becomes essential for both manufacturers and consumers alike.