Yellow green Coil Cable,muilt-core,PVC Spiral wire
---
Yellow green Coil Cable
Application:
This Spiral cable can be used in : Lighting industry, Data installations, Shops and Telecommunication.
Featured cables
Long length spiral cables, reach to unextend 3meters.
Short length spiral cables to 20mm.
Single core spiral cables for industrial dynamic applications.
PUR spiral cables for Signal control and Power transmission.
PVC spiral cable for Home appliances.
TPE spiral cable for trailer.
Rubber spiral cable for instruments.
Tinned copper shield spiral cables.
Spiral cable assembly with mold plug or connectors.
Kevlar lanyard ,stainless steel core spiral cable for safety products.
Customized jacket color ,produce any spiral cables as your design.
---
SHANGHAI KMCABLE GROUP CO.,LTD — Spiral Cable Manufacturer in Shanghai ,China. 10 years experiences in manufacturing spiral cables, Our professional experiences will support you in the field. Learn more at www.KMCABLE.com
Conductor
Bare copper conductor, to DIN VDE 0295 cl.5, fine wire, BS 6360 cl.5, IEC 60228 cl.5
Core
Muilt-core
Temp
-5°C to +70°C
Insulation
PVC
Sheath
PVC
Test voltage
2000 V
Nominal voltage
H03VV-F: U0/U 300/300 V

H05VV-F: U0/U 300/500 V

Sheath colour
Black/Blue/Purple/Orange/White/Yellow/Green
Packaging
Meter marking

If you need more product about PVC Coil Cord cable, Please contact our

bussiness manager!
KMCABLE is a production and sales – industrial automation cables, flexible cable manufacturers,to provide customers with professional automation cable solutions.
Why choose and Trust to KMCABLE?
Beacuse of we have professional technology, professional team and excellent service! And we will serve to you for 24 hours!
Our product can be tailored to our customer, and be the best solution for you.
Address: NO.699 Xiannan RD,Fengxian District,SHANGHAI 201400,CHINA
TEL: +86-21-60528967 (Sales manager: Miss Guo)
E-mail:[email protected]
Mobile: +86-18321959316
Whatsapp:+86-18321959316
Wechat: 18321959316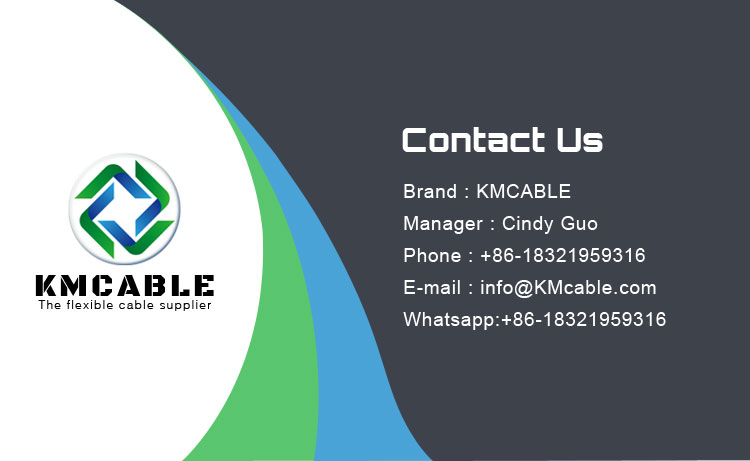 Details
| | |
| --- | --- |
| Brand | KMCable |
| Core | Multi |
| Conductor | copper |
| Color | Black, Blue, Green, Orange, white, Yellow, Yellow/Green |
| Nominal voltage U0/U | H03VV-F: U0/U 300/300 V H05VV-F: U0/U 300/500 V |
| Temperature (°C) - flexing | -5 to +70℃ |
| MOQ | 100pec |